Depending on who you ask, salami can be the centrepiece of some well-known delicacies. It may surprise some to know that it boils down to a cured sausage that comprises air-dried and fermented meat. While pork is the most popular option, there are salami varieties made with beef, chicken, and turkey as well.
Purchasing salami online is very convenient, but it's not like there is a single variation out there to make it simple. There are a ton of salami products, and the one you choose should depend on your taste and the kind of meals you hope to make it a part of.
If you need some help with this decision, don't worry about it… You wouldn't be the first person to find yourself in such a meat debacle. So, with that said, below is a look at three potential salami types you could be looking to purchase, as well as some useful information that should help you in the kitchen.
Hungarian Salami
Starting this one with the name may be a good idea… While you and others may know it as Hungarian salami, its real name is Téliszalámi, which is just as much of a mouthful as a well-done sandwich that uses the stuff, lol.
The shelf life is awesome, and its popularity around the world seems to continuously be on the rise. Hungarian salami is a descendant of the first set of produced in the country on the river Tisza.
An incredibly creative man named Márk Pick decided he wanted to create a new kind of Italian sausage that Hungary was yet to be familiar with. Of course, it had a striking resemblance to its Italian inspiration, but the Hungarian butchers decided to give it their own unique flavour.
The Flavour of Hungarian Salami
What resulted was meat products that used only natural ingredients. The unique aroma it has comes from the protective bloom that coats the sausage during its three-month post-smoke maturing, as well as a combination of seemingly highly protected Hungarian spices.
One of the best and most popular varieties is the Budapesti Téliszalámi, which uses pork meat on pork fat from both non-breeding female pigs and castrated male pigs older than a year.
It's smoked and dried, and yields a strong, sweet paprika, white pepper, and allspice flavour. It's easy to slice and tender, melting the mouth style makes it incredibly suited to the wrap recipes.
if you want to have an incredibly unique dinner or want something that you can eat on the go, a Budapesti Téliszalámi wrap with some lettuce, tomatoes, and even cranberries should make for quite the meal.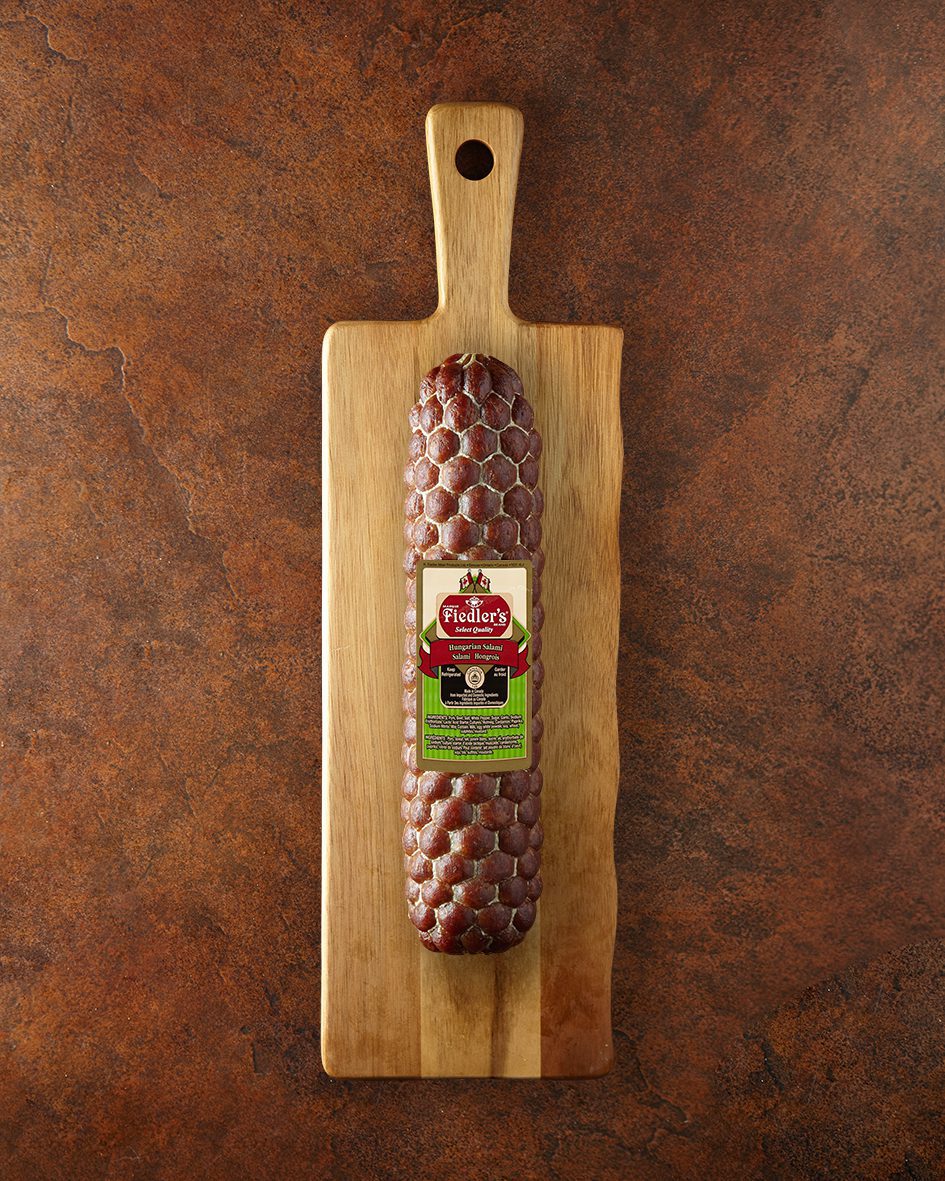 German Salami
Salami is no doubt a favourite in Germany. Meals such as spätzle noodles or white asparagus wrap-around are more common than you would think and it's why this alternative can be so delightfully tasty in your kitchen. Throw in some fresh tomatoes, pickles, and cucumbers, and there is a meal you're not going to soon forget.
The price of these meat products depends on how long they have been dried in the air and smoked. Yet again, the slicing process is barely an inconvenience, and the flavour is unmistakable.
Beyond salami products, Germany is also famous for a host of other sausage types and ham-based delicacies. These are often used to form a part of or whole meals ranging anywhere from breakfast to dinner.
On that note, a traditional German salami sandwich is the best way to enjoy this. Whether it's for the whole family or you just want to impress your significant other, this is the meal to whip out.
You are going to need some tomatoes, sandwich buns, brie, black olives, and coarsely chopped basil leaves. With five minutes of prep and five minutes of cook time, you have assembled a masterpiece that is going to leave everyone wanting more. So, it may be in your best interest to just buy more and make more. Problem solved, right?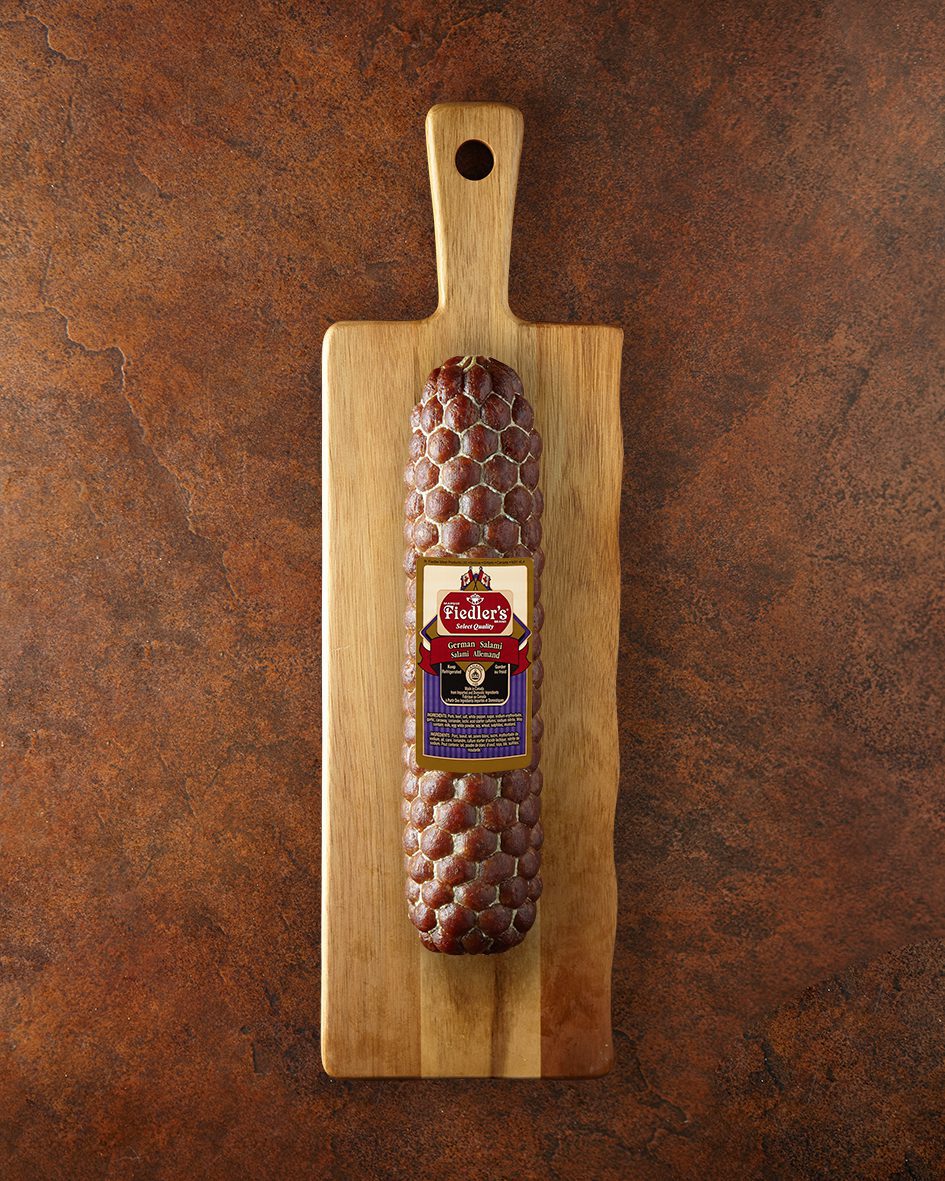 Peppercorn Salami
Peppercorn tends to be picked when it's green and slightly underripe. Following that, it's dried until it becomes black or dark brown, which is when the real flavour kicks in. You can find it being used to flavour a host of meat and other foods, but the interest here is salami.
The flavour that peppercorn salami brings makes it at home in any kitchen. Imagine the delicate and smoky aroma of salami mixed with a distinct peppercorn flavour, topped off with a soft and silky texture that just melts in your mouth as you eat. How is that for treating yourself?
For those who enjoy things on the spicier side of life, an undoubtedly reliable recipe is a stew consisting of sausage, salami, and a lot of pepper. The ingredients you'd need include salami slices, pork sausages, red pepper, and yellow pepper. The recipe is versatile, so feel free to throw in whatever peppers you prefer.
Beyond that, you are going to need onions, oregano, red wine, tomatoes, green olives, sugar, and some cannellini beans. Serve it with crusty bread on movie or home date night to get things off to a spicy start.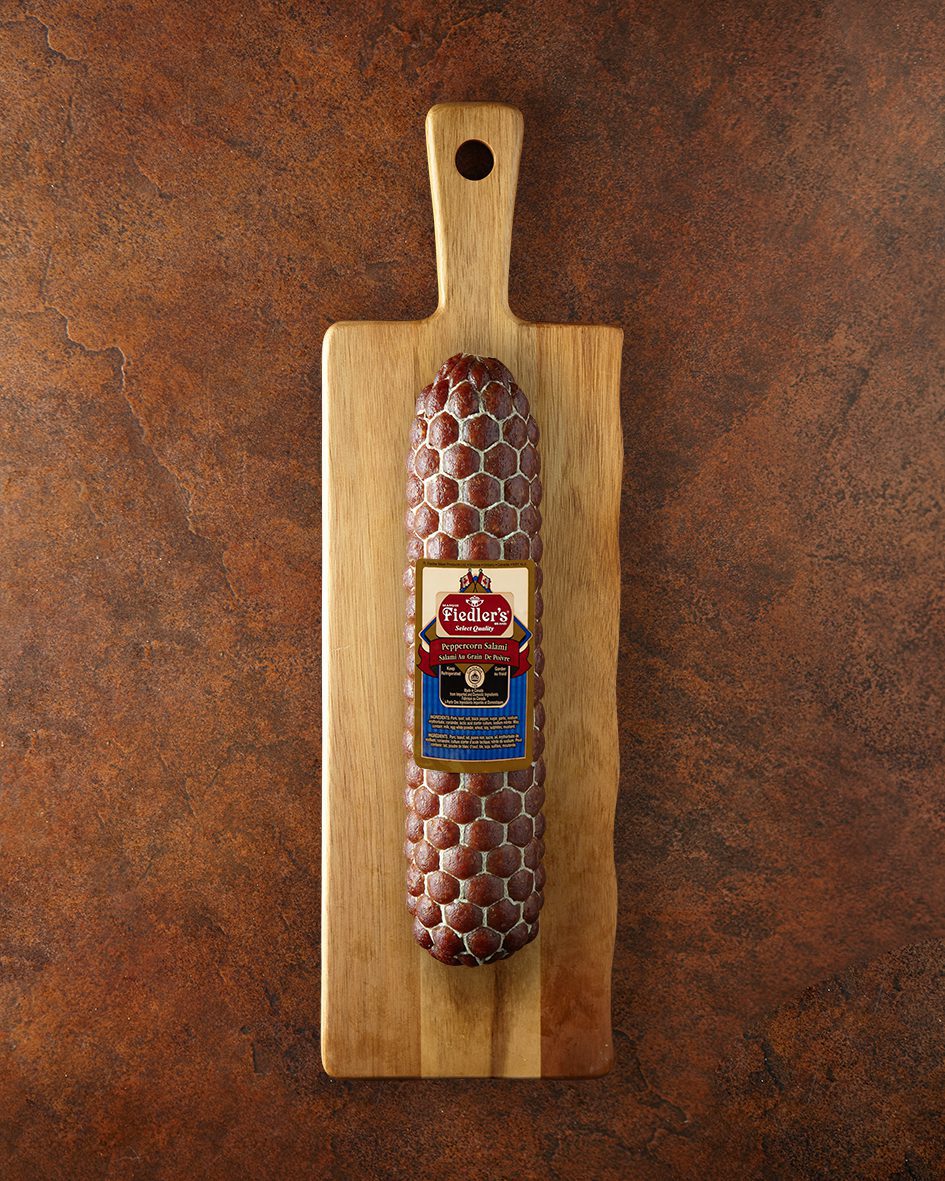 Wrapping it up
The pun was unintentional, but you could throw any of these salami varieties into a wrap. It's all about getting creative and enjoying what you make, which becomes that much easier with a solid centrepiece.
Order in any of these three online from Fiedler Meat Products in Simcoe, Ontario and make your next meal special!
Contact Information
R. Fiedler Meat Products
10 Grigg Drive, Simcoe, Ontario N3Y 4L4
519-426-8520
https://www.fiedlermeats.com/